Your Locations Gone Mobile!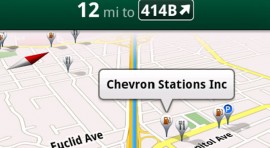 Mobile searches have grown 500% over the past two years. 61% of mobile users call a business after searching for it, and 59% visit the store location.
With mobile now outpacing desktop use, consumers are more likely to be searching for retail locations and driving directions while on the road.
We've developed the most user-friendly and simple to implement mobile store locator solution available.
• Click-to-call and GPS functionality
• Works with Android, iPhone, Windows Mobile, Blackberry, or any mobile browser
• No download required
• Powered by the same data/admin as the desktop version
• Custom branding keeps your users on your site
When a mobile user is detected on your standard store locator page, the user will automatically be delivered the mobile version of your system – and the design is responsive so the best experience possible is delivered to users of various screen sizes and orientations.
Our geo targeting technology dynamically generates your locations near your user and displays them in text and graphical form with a custom look to match your design.
Mobile support is available as an upgrade to our standard software. Cost is $400 for the first year, and $150/year after the first.